Goddard & Roswell High Schools - Roswell, New Mexico


JIM WHITE, KAREN PATTERSON NICHOLS and LOUIS BAGWELL met in North Houston on March 13th to share memories of growing up in the Utopian town of Roswell. Life was simple, life was good, growing up in Roswell in the 50's and 60's. Of course, the day seems like yesterday when you have lunch with a classmate that looks like she just graduated a year or two ago. It was nice, since I cared so little about school back then, to share the love with two classmates that were both class officers and very involved in everything, including yearbook, back then. Thank you for your service to our class. You are the best!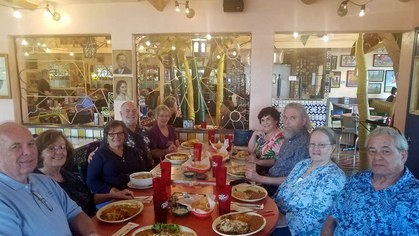 On March 8th, several Houston area classmates gathered for lunch. If you are thinking, "Would you have anything to say after 50 years?" Well, apparently plenty. Most stayed for six hours! Even after we left the restaurant table 4 hours later to free it up for customers, we went out front and talked for two more hours.
Those present, from Left to Right, BOB REAM, KAREN HARRINGTON REAM, KATHY WHITE, JIM WHITE, MICHAELE AUSTIN KELLY, MARY VEATCH, BUTCH COLBERT, SHARON COLBERT, HEARKY VEATCH. Another lunch gathering will be this Wednesday, March 13th, and will include LOUIS BAGWELL, KAREN PATTERSON NICHOLS, JIM and KATHY WHITE and hopefully a few more Houston area classmates.
It is absolutely fascinating learning about childhood friends and acquaintences. If you grew up with all our wonderful Roswell classmates, you would love learning the business people, lawyers, chemical engineers, etc. they have become. If you don't, uh ... well ... I worry about you.
Besides the meeting this Wednesday, as Kathy and I travel east on I-10, we will be seeing BOBBY ALLISON in Mississippi, and in Florida hope to catch up with KAREN McCARTY FINK, BILLY SLOAN, CHIP KING and anyone else we find in that state. Don't think we are just chasing classmates. We are also seeing lifelong friends, going to enjoy New Orleans, the Gulf Coast, Mobile Alabama, we even have 10 days reserved on Fiesta Key in the Florida Keys. After Florida, Kathy and I are heading up the east coast. We also hope to make it to TERRY BOONE'S lake home sometime. And, of course, JUDI ADAMS MORRIS and ELIZABETH GWARTNEY LOWNEY always welcome us when we are in Denver area. Thank you, BOYCE McFARLAND for helping make this wonderful trip possible. Keep dancin', yaw'll.
Are you a member of the 1966 classes of Goddard or Roswell High Schools, Roswell New Mexico, and just found this page? Please sign in:
click on "Classmate Profiles"

scroll to your name

add your information to stay connected

your registration will be approved and you will have full access.
Know the Email of a Classmate that
has not logged in to the site?
After you log in, click on their name
in Classmate Profiles -
Enter their email address -
We will send them an invite to the site!
The message forum is an ongoing dialogue between classmates. There are no items, topics, subtopics forbidden but please use extreme caution and common sense with politics, religion, language and risque subjects. Forums work when people participate so do not be bashful! Click the "Post Response" button to add your entry to the forum.
If you have a clue about where these friends and former classmates are, PLEASE let us know. All we need is a former mailing address or email - even a city and state or even a licensed occupation often helps us track them. Click "Contact Us" at the top of the page and send us a message if you can help.
PRIVACY NOTICE: All contact information (address, phone number, e-mail address) entered into this Website will be kept confidential. It cannot be seen by classmates (other than website administrators) unless you grant permission on your profile. Your email address is not visible, although an email can be sent to you using the private message contact box at the bottom of your Profile picture. Note, however, if you send a message to someone through their Profile page, the Classmate will see your email address so that they can respond.

MEMBERSHIP DISCLAIMER: This is a private site for YOUR HIGH SCHOOL Graduates. Classmates that did not graduate with the class, or that graduated from other years may be admitted on a case by case basis. All membership, regardless of graduating year, will be granted or denied, at the discretion of the site administrator. All memberships may be revoked at the discretion of the site administrator. The privacy and security of all registered members will be considered a priority for the purpose of invitations, admittance, denials and revocations